Grenada - Save Up To $175 Per Booking + More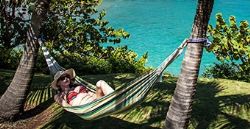 Grenada — Save Up To $175 Per Booking + More
Go where every experience is bold, natural and untouched. Dive the Underwater Sculpture Park, hike to Annandale Waterfalls for a refreshing swim, or stand at the mouth of a dormant volcano. From craft markets to street parties, Grenada is truly the spice of the Caribbean.
With a flight and hotel package, save up to $175 per booking:
...

Delta Vacations gives you the benefits and flexibility to truly own your vacation experience with packages inspired by hundreds of destinations, thousands of accommodations and endless activities.
Benefits of booking with Delta Vacations:
Enjoy savings when you package your flights, hotels, car rentals and more to any of our 300+ destinations worldwide.
Relax and book your dream getaway with ease, knowing you're getting the best price with our
...
Multiple itineraries available